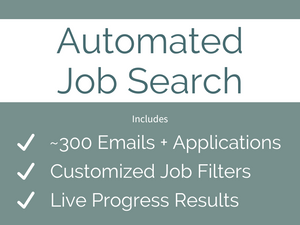 Our unique process streamlines the job search process, allowing you to get interviews and a job faster with minimal effort.
First, we'll create your profile and upload your resume(s). Then, we'll assist you in selecting your desired job titles, locations, and any other optional preferences. Finally, our software will search for jobs and either apply on your behalf or give you total control of your applications.
Your Automated Job Search includes access to your dedicated portal for 1 month, designed to reach out to 300 recruiters (via applications/emails) during that timeframe.

In addition, your dedicated career coach will send 500 follow-up emails directly to hiring managers on your behalf based on the positions our service has allocated for you.