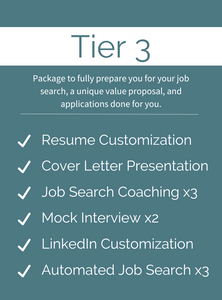 If you're looking to take your career to the next level, our comprehensive job search package is for you. Through this package, you get a dedicated Career Coach for a full 6-months to guide you in achieving your next position.

We begin by customizing your resume based on your next career goals and in-depth industry research. You'll then get a presentation that sets you apart from the other 200+ applicants and highlights your value and creativity. A full LinkedIn Customization is also provided to help you attract recruiters and employers for qualified job openings.

Moving into your coaching, you'll receive dedicated sessions to align your career goals, your conversations with employers, and an additional job search coaching call to review interview progress and prepare you for salary negotiation. After speaking with 7,500+ recruiters and hiring managers throughout the US, we'll make sure to equip you with the best knowledge on your job search and negotiation techniques.

To prepare you for interviews, you'll receive two recorded mock interview sessions with feedback from two Career Coaches to fully prepare you for landing job offers.
Best of all, you'll also save hundreds of hours by letting us to the applying for you! Our software will locate and apply to 900+ jobs (within 3 months) for you so that you can focus on networking and interviewing with employers. To maximize your results we also send out ~1500 emails directly to hiring managers on your behalf!
Let's get started today and start your journey to success.  
Free Career Consultation

Custom-written Resume* (with edits up to 7 days)

Custom Application Presentation

LinkedIn Profile Customization
Three 60-minute Job Search Coaching calls with 

Executive Career Coach

Two 60-minute Mock Interviews with 

Executive Career Coach

3 months of job applications and emails delivered for you

~1500 emails sent directly to hiring managers
Coaching email support for 6 months
*Senior - VP - Executive Packages receive Executive Career Coaching*