Get the Ultimate Cover Letter Template for Free and Boost Your Job Search!
Designed to Make an Impact and Increase Your Chances of Success.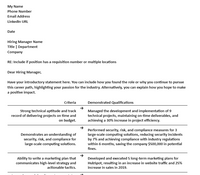 Are you looking for a cover letter that makes employers take notice?
Our free cover letter template, created by Diane Gildea, Founder of Maximum Wage and an expert in recruiting and career coaching, is the perfect tool for you.
Join over 2,200 job seekers and employers who have recommended and downloaded this cover letter template. It's time to stand out from the crowd and showcase your skills and experience in a clear and compelling way.
Candidates are being hired at
Our template is carefully designed to be clear, concise, and visually appealing, making it easy for hiring managers to assess your qualifications. Customize it to highlight your unique strengths and leave a lasting impression on potential employers.
Don't miss this opportunity to elevate your job search. Download the cover letter template for free and take the first step towards securing your dream job today!