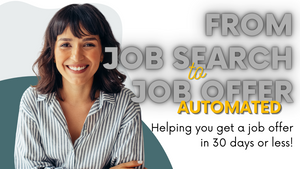 Are you tired of sending out countless job applications and hearing crickets in response? It's time for you to take control of your job search and land interviews with confidence. Your 30-day challenge program is not just another job search course; it's your direct path to connecting with recruiters and hiring managers, guided by a seasoned pro.

What Sets Us Apart:
- We break down daily, actionable steps that take just 1 hour or less, so you can see real results without the overwhelm.
- Unlike most coaches who focus on general job searching, we teach you how to reach out directly to recruiters and hiring managers, giving you the upper hand in the competitive job market.

Your 30-Day Companion:
- This course is designed to guide you through each step over the next 30 days, providing you with daily action items.
Real Results, Fast:
- Our clients often receive responses within the same day of starting the program.
- By the second week, many have multiple interviews already booked on their calendars.

Efficiency at Its Best:
- This program takes just 1 hour a day, making it easily manageable for anyone.

No Limits on Your Ambition:
- Whether you're searching for an entry-level position or a top executive role, this program can help you succeed.

Take Charge of Your Job Search:
- Are you frustrated by the lack of responses to your job applications? You're not alone. We designed this course to put you in control, allowing you to initiate conversations and outreach with confidence.

Bonus Resources That Make a Difference:
- Gain access to workbooks, templates, and tools that simplify the process, so you can streamline your job search with ease.

Our Guarantee:
- If you don't secure any interviews within 90 days of daily effort, we offer a refund. Your success is our priority.

Differentiate Yourself from the Competition:
- Did you know that less than 12% of applicants call or email someone at the company after applying? We want you to be in that top 12%—building connections with recruiters and hiring managers that set you apart from the crowd.

Bonus Resources: 
- Take advantage of over 15 guides, workbooks, and templates that are at your disposable. These will guide you on early stages like how to figure out your next career plan or even at the end of your journey by helping you negotiate your salary.

Join us and take charge of your job search journey. Be part of the select few who secure interviews, offers, and their job goals.

Payment Plan Options:
Yes, you can use ShopPay to pay this in 4 installments over the course of 2 months.