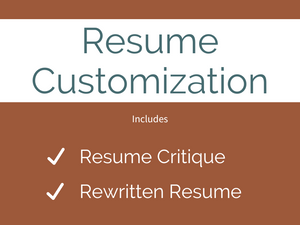 With thousands of revised resumes and interviews under our belts, we know exactly what catches an employer's attention in a positive way.
When you work with us on a custom-written resume, we'll focus not only on your work achievements and core strengths but also on what makes you stand out and sets you apart from other candidates. With our guidance, you'll have a resume that showcases your unique skills and experience and gets noticed by potential employers.

After conducting an initial consult, we start working on your resume immediately. 
Within 2 business days, you will receive a resume critique, the first portion of your service. This includes 25+ questions that help us better understand your relevant background, processes, accomplishments, and skills to align them to the role you're seeking next.
Once we receive your answers, we start working on your new resume and deliver that within 3-5 business days. In our process, we evaluate 20+ positions that are aligned to your next job goals as well as resumes of professionals who have the job you're interested in. This deep research allows us to write a standout resume that helps you get more interviews.
Bonus: You will receive cover letter templates and our networking eBook that has been used and tested to gain hundreds of interviews with employers.
*Expedited resumes are subject to an additional fee.